Wood
We only use the highest quality materials whether you are working with metals or woods.
Woods of Choice (Hardwoods)
The woods listed here are all great choices for solid wood doors. Only Maple is recommended for use in only interior doors while the others can be used for either interior or exterior doors. All of these woods are what we consider to be classic woods of enduring beauty – perfect for hardwood doors. There are many species of wood. In fact, there are 1650 species, and 81 species from that list are commonly used in door construction. Of those 81 species, customers have even more choices for their designer or custom wooden doors. For instance, Mahogany is an absolutely beautiful wood for use in very high-end doors. There are actually 85 varieties of Mahogany – and even more woods which are called Mahogany but really aren't.
Several Mahogany woods, such as Honduras Mahogany, are really quite beautiful and have a stunning appearance when finished. Others woods which may be Mahogany often aren't what we would consider appropriate for a high-end custom exterior door and would pale next to a Honduras Mahogany door. As top-notch door designers, we specialize in custom doors, many of which look like pieces of art when finished. Because of this, Monarch Custom Doors only uses the most select woods from around the world. Before you make a purchase decision, be sure you know which species and which member of that species you will be getting. Below is a list of just a few select woods you might want to consider. There are also many others you could choose from depending on your particular taste and requirements. There are even very scarce woods or reclaimed woods which you could select from. There are also woods which are more easily obtained such as Oak, Narra, Beech, and Ash, which are less expensive woods but still make for excellently handcrafted doors.
Additionally, there are veneers which might be used in some applications such as an overlay on a custom security door to make it look like a normal door. Whichever material you choose for your doors, Monarch Custom Doors' and artisans and craftspeople are dedicated to providing you with doors of exceptional quality and finishes. The detail and delicacy of their work create doors which are true masterpieces — doors which will last for the ages.

---
Brown Alder
Brown Alder is a member of the Birch family. Alder is found in areas of Alaska and California and is a beautiful wood for interior doors because it accepts stains well and will finish nicely. The wood can be either quite knotty or available in pieces with little or no knots. Alder is in the mid-premium price range.
---
Black Cherry
Black Cherry can be a rich reddish-brown color that darkens with age. It is unsurpassed in its finishing qualities. Color variations between boards can be significant. Cherry is a premium price wood that can be used to make a stunning custom wood door.
---
European Cherry
European Cherry has less color variation than Black Cherry. It also is a premium price wood.
---
Pecan
Pecan is a species of Hickory. It is one of the heaviest and strongest woods available. Color range is from white-tan to reddish-brown. It is an extremely tough and resilient wood. Pecan is a mid-premium price wood.
---
Brazilian Kingwood
Brazilian Kingwood, also known as Brazilian Rosewood, has the respect and mystique of no other tonewood. It is included in the category of endangered species. Substitutes include East Indian Rosewood, Amazon Rosewood, and Honduras Rosewood. Brazilian Kingwood is a premium price wood.
---
Mahogany
Mahogany is one of the most beautiful and prolific species, of which there are 85 varieties. It is important to know the source of the Mahogany because the quality can vary greatly from different regions of the world. Mahogany from the Caribbean is thought to be the best. Honduras Mahogany is a premium price wood that is perfect for creating a beautiful custom front door.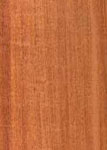 ---
Sugar Maple
A heavy, dense wood with a fine texture. Sugar Maple is a hardwood with excellent resistance to abrasion and takes stains well. Sugar Maple is a mid-range price wood.
---
Narra
Narra is primarily from the Philippines and Southeast Asia and is sometimes called East Indian Mahogany. This wood stains well and has a beautiful grain. A perfect wood for a good quality door. Narra is a mid-range price wood.
---
Honduras Rosewood
A rare wood, Honduras Rosewood ranges in color from light violet to light red. The wood finishes to a high, natural polish. This wood is a premium price wood.
---
Teak
There are at least 18 varieties of Teak, so it's important that the right one is selected. Indigenous to Southeast Asia, it is a extremely heavy wood and very durable. Teak is a premium price wood suitable for nearly any solid wood entry door project.
---
Black Walnut
A rare wood that is often chocolate brown in color, Black Walnut is one of the most versatile and popular woods for use in fine cabinetry. Black Walnut is a premium price wood.
---
European Walnut
Like Black Walnut, European Walnut is also a beautiful wood that is used in fine furniture. It is also a premium price wood.
---
Dark Red Meranti
Dark Red Meranti. The source of this species is mostly from Southeast Asia. This wood species is also called Mahogany, but is of a slightly lesser quality than Honduras Mahogany; however, it still is a beautiful wood, and less costly than the Honduras species and could be used for fine custom doors. A mid-range price wood.
---
Brazilian Rosewood
From Brazil and India, Brazilian Rosewood is a rare, endangered species and may be banned from commercial trade. This wood is the Holy Grail of woods used for musical instruments. Brazilian Rosewood is a premium price wood.
---
Reclaimed & Exotic Wood
If you prefer, we can obtain a variety of reclaimed or exotic woods from around the world. Often, this might require us to obtain the wood from one part of the world and ship it to where our artisans are located in another part of the world. Depending upon the wood choice, this may add several weeks to the time required to craft a door. In any case, our team can create the perfect custom door for your project. If you can dream it, we can design it!

Check out our large selection of solid wood interior doors, exterior wood doors, and home theater doors.